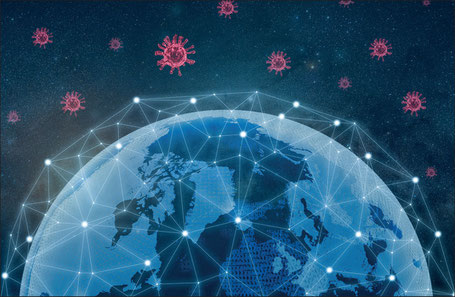 Image by https://www.thelancet.com
The COVID-19 pandemic and the dreadful Movement Control Order (MCO) have had a significant impact on the way education is delivered — with many schools, private institutions and universities shifting to online learning to keep students and staff safe. As the owner of a tuition centre, I was forced to close Pusat Tuisyen Dinamik Pemikir for nearly two years with zero income to support the operation. I even used up all my savings, resorted to Tekun's Loan and later withdraw my Employees Provident Fund (EPF) to keep the business afloat — but even in darkness, there will always be a silver lining.
The shift from traditional classroom learning to online learning has enabled a broader range of educational opportunities to become available in the digital age. From being a newbie of using Google Meet platform to a full-time online teaching. With the internet and technology, students can now access a wealth of resources and classes that were before unavailable to them. This has also led to a greater focus on digital literacy and the development of new technologies to support online learning.
Another trend that is likely to continue post-pandemic is the shift towards personalized learning. With online learning, students have more control over their own education, and this has led to a greater focus on student-centered learning and data and analytics to personalize the learning experience.
But, the shift to online learning has also highlighted the digital divide, with many students from disadvantaged backgrounds lacking access to the technology and internet needed for online learning. As a result, there have been calls for greater investment in technology and internet infrastructure because of this situation.
The pandemic has also had a significant impact on the finances of many tuition centres' owners, with many struggling to cope with the loss of revenue. Unfortunately, these industries did not get any special aid from the government except that they have to generate their own incomes using unconventional ways such as teaching online, selling masks, etc.
Despite the challenges, there is also an opportunity for the education sector to innovate and adapt to the changing landscape. Many schools and universities are exploring new models of education delivery, such as blended learning and micro-credentials, to meet the needs of students in the post-pandemic world.
Fast forward, the future of conventional tuition centre's business after the pandemic has led to a new unchartered journey, judging by the government's decision to abolish PT3 and UPSR permanently. But there are opportunities for innovation and adaptation. The shift to online learning has opened up a wider range of educational opportunities, but also highlighted the digital divide. The tuition centre's owner needs to explore alternative ways to generate revenue and adapt to the changing landscape to make sure its survival and relevance.